Do you ever have those days when you wake up and you just know, even before you look in the mirror that your eyes are going to look tired? And, of course, you've got to be at a meeting in an hour so what do you do? We have some tricks up our sleeve that we'd like to share for those mornings, or for some of us, every morning, to wake up your eyes!
First, try to keep puffiness at bay by keeping salt intake reasonable. Also, if you have allergies, keep up with your meds. and try sleeping with your head slightly elevated. Oh and do not watch that tear jerker movie the night before a big event! I made that mistake once and woke up with scary puffy eyes!
Second, using a good eye cream on a daily basis will help keep the delicate skin around the eye area hydrated and treated.
Now onto makeup! This is where we can truly help you fake that great night sleep and open up those peepers!
Step 1: Fill in your brows. Believe it or not, darkening your brows will help bring the focus upward and lift your eyes which makes them look awake. We love our Brow Powders. Swipe some color on them using our Brow and Eyeliner brush for a natural boost. Shop brow products here.
Step 2: If your dark circles are off the charts, pat on a few dots of a peach color corrector in a triangle at your inner corner (as shown below) and blend down and anywhere the darkness is prevalent. We suggest the peach side of our Color Corrector. Shop Color Correctors here.
Step 3: Use concealer in the shade closest to your chin line in the upper and inner corner of your eye (as shown below). We recommend a pin dot amount of AMAZINGCONCEALER. Shop our Concealers here.
Step 4: pop a bit of a coral/rose shadow in line with your pupil above your lid so when you open your eye, the shadow can be seen (as shown below). This helps to bring focus upward as well as brighten your whole eye.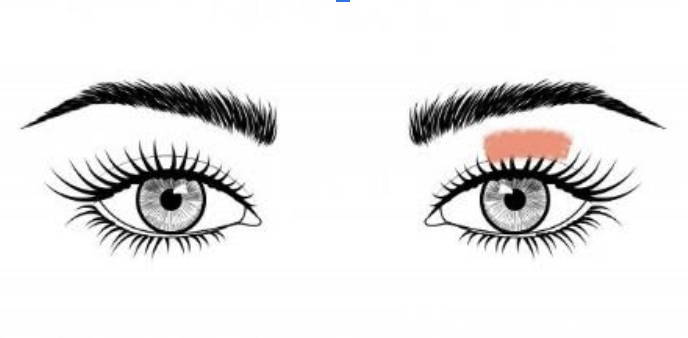 Finally, a pop of blush and lip will help to brighten and wake up your whole face!