How do we feel about eyebrows here at AMAZINGCOSMETICS? Okay, we're known for our AMAZINGCONCEALER and do focus on complexion BUT eyebrows are right up there as well!
Why are eyebrows so important?
Defining your brow adds framing to your face

Defining your brow allows the need for less eye makeup
Defining your brow brings focus upwards to our eyes
Defining your brow brings youth back to your face
Here are pics of my right eye with and without!

Did we convince you? Here's how to define your brows without getting too scary!
Using our Brow Powder (available in 4 natural shades) and Brow Eyeliner Brush, dip the brush in the powder and swipe on, angling the brush with the natural growth of your brow going straight up at the inside and lengthwise on the outside. Start light to begin and add more if needed. When you get to the outside, go ahead and lengthen a bit. A longer brow is very attractive!
Put your brush handle where these lines are drawn on my niece's eye below to guide you with length. She's got the most beautiful eyes and her brows have A LOT to do with that!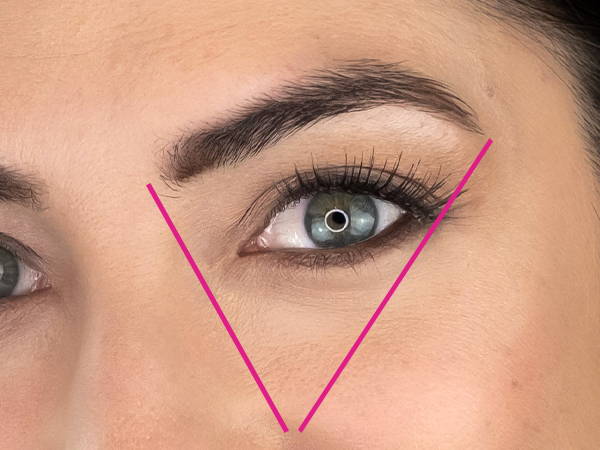 I then like to brush our clear Brow Gel on top. Brushing through your brows helps the powder look more natural and also tames any wild hairs. This is such a simple and easy way to bring youth and focus back to your eyes!