My husband and I were engaged on Diamond Head Volcano (Honolulu, Hawaii) and knew that someday we would come back. I always dreamed of a beach wedding, and for reasons important to me we went the traditional route originally. For our 10th Wedding Anniversary, I got my dream and we brought our two children as our wedding party to Hawaii for our vow renewal. I found a wedding dress that I love more than my original, we wrote our own vows, and lined up the perfect Hawaiian officiant. We packed up the kids and flew to paradise for the experience of a lifetime!
Waikiki weather is always amazing; however, this summer the heat and humidity seemed to be much higher than in previous trips. Queue the hair and makeup anxiety! Luckily, I had packed my faithful "never fail" kit. My hair is long, fine, and resistant to anything pretty. Eufora Volume Shampoo & Volume Daily Conditioner, and Eufora Volume Fusion are truly magic in a bottle! Waves created with my trusty BEACHWAVER Pro 1 then held together with Elnett Hairspray. I love the strong hold, yet my hair is touchable and still has movement. To keep my makeup from melting along with my family, I used a pearl size of AMAZINGCOSMETICS Anti-Aging Face Primer *this powerful primer is a must have. I also used the Color Corrector in Light-Medium as the sun brought out a couple pesky sunspots and the long flight gave my eye area an unfortunate purple hue – so thankful for this miracle stick! Lastly, I used AMAZINGCONCEALER to even out my complexion, Powderset to keep it all in place, and for the finishing touch I filled in my lips with VeryTerribeauty Stay Put  Lip Liner in Guava and sealed them with their Lip Lock.   I love how gentle this shade is when worn alone and how easily it can be brought to glam with a deeper lip color. My trusty kit did not disappoint! My mascara didn't sink onto my cheeks, my shadow stayed in place, my hair flowed with the ocean breeze and went right back to where it should.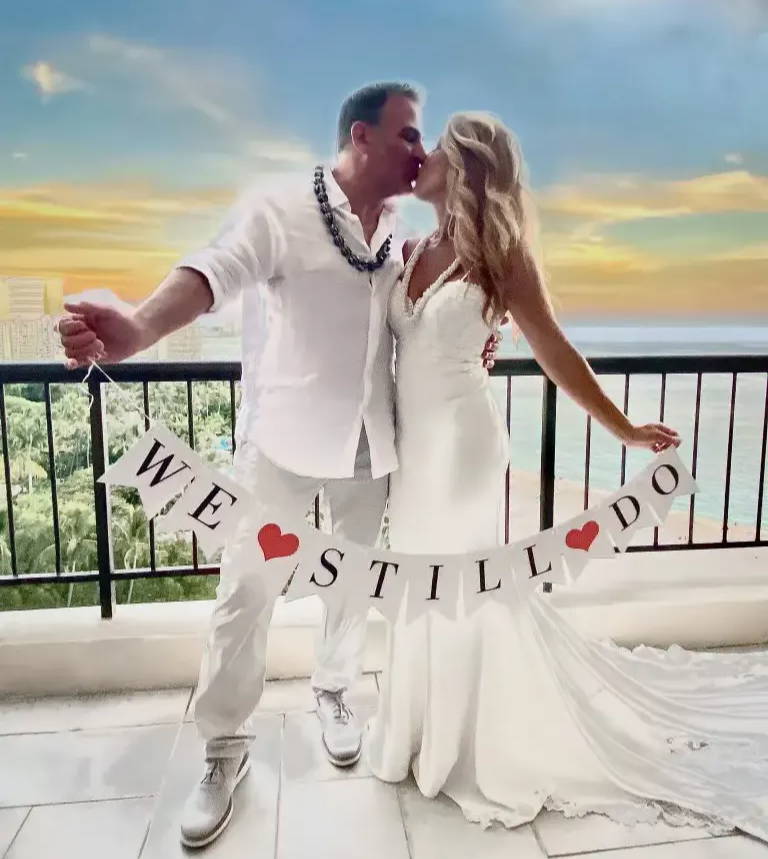 We met our officiant at the Western edge of Waikiki Beach, and with Diamond Head watching over us, we renewed our vows with our children as part of the ceremony. My daughter cried and whispered, "this is so beautiful!". My son, loudly, mentioned he was starving. Emotional moments aren't easy for this 8-year-old boy. Once fed and happy my son looked at us and said, "Can we do a renewal every year?".
After our 15-minute ceremony and a session with a photographer we were fortunate enough to have reservations at Tanaka East where the meal was as incredible as the presentation. The day was perfect and the memories are priceless.
Best advice for your upcoming celebration: enjoy every moment. The stressful planning, the jitters, the ceremony, the reception, it's your day! Want to bring your family together and celebrate again? Vow renewals can be done anywhere! Backyards, beaches, ski slopes, anywhere that is meaningful. You can do something as small or as large as you like! Live your love story, make your dreams a reality!
Congratulations and best wishes to all the brides - past, present, and future!
Andrea