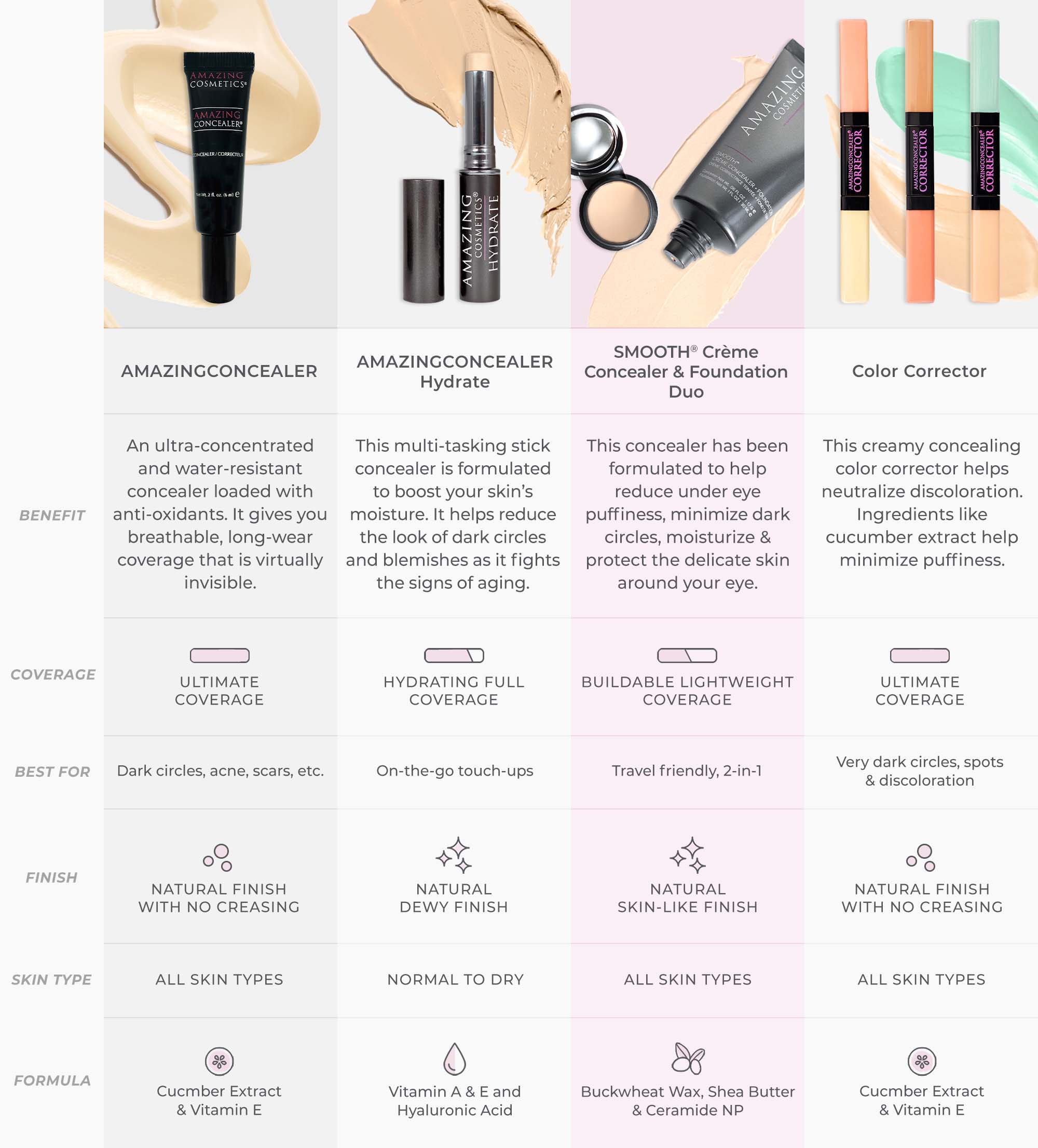 Just like your clothing wardrobe where you have specific outfits for work, workout, dressy, casual, cold days, warm days… A concealer wardrobe works the same way. Complexion is all we do here at AMAZINGCOSMETICS and we have everything you need to build your concealer wardrobe so you can stay flawless whether you wake up with super dark circles, dry skin or blemishes and for those no makeup makeup days or those full on makeup for formal occasion days. Bonus, our formulas all have skincare benefits so they not only make you flawless, they take care of your skin as well.
Dark circles?
Whether you have hereditary darkness or just aren't getting enough sleep, erasing those dark circles is the first step to your makeup routine even if you are going for the no makeup look. Our goal here at AMAZINGCOSMETICS is to help completely hide those imperfections with as little product as needed so no one even knows you have concealer on. We've added color correcting pigments that combat those pesky undertones to all of our formulas and have created formulas that work with your skin instead of sitting on top of it. Our AMAZINGCONCEALER also contains Vitamin E and Cucumber Extract which has a high Vitamin K content to treat darkness and depuff.
Product to use: AMAZINGCONCEALER
Dry skin?
Do you have days where your skin needs that extra hydration? Or your undereyes are just looking dry and crepey? Our AMAZINGCONCEALER Hydrate was created for those times. We've added Sodium Hyaluronate to our custom color correcting pigments to add that boost of moisture. Bonus that it comes in a beautiful easy to swipe on stick. It's a perfect lightweight natural foundation as well. Swipe on anywhere you need cover plus hydration.
Product to use: AMAZINGCONCEALER Hydrate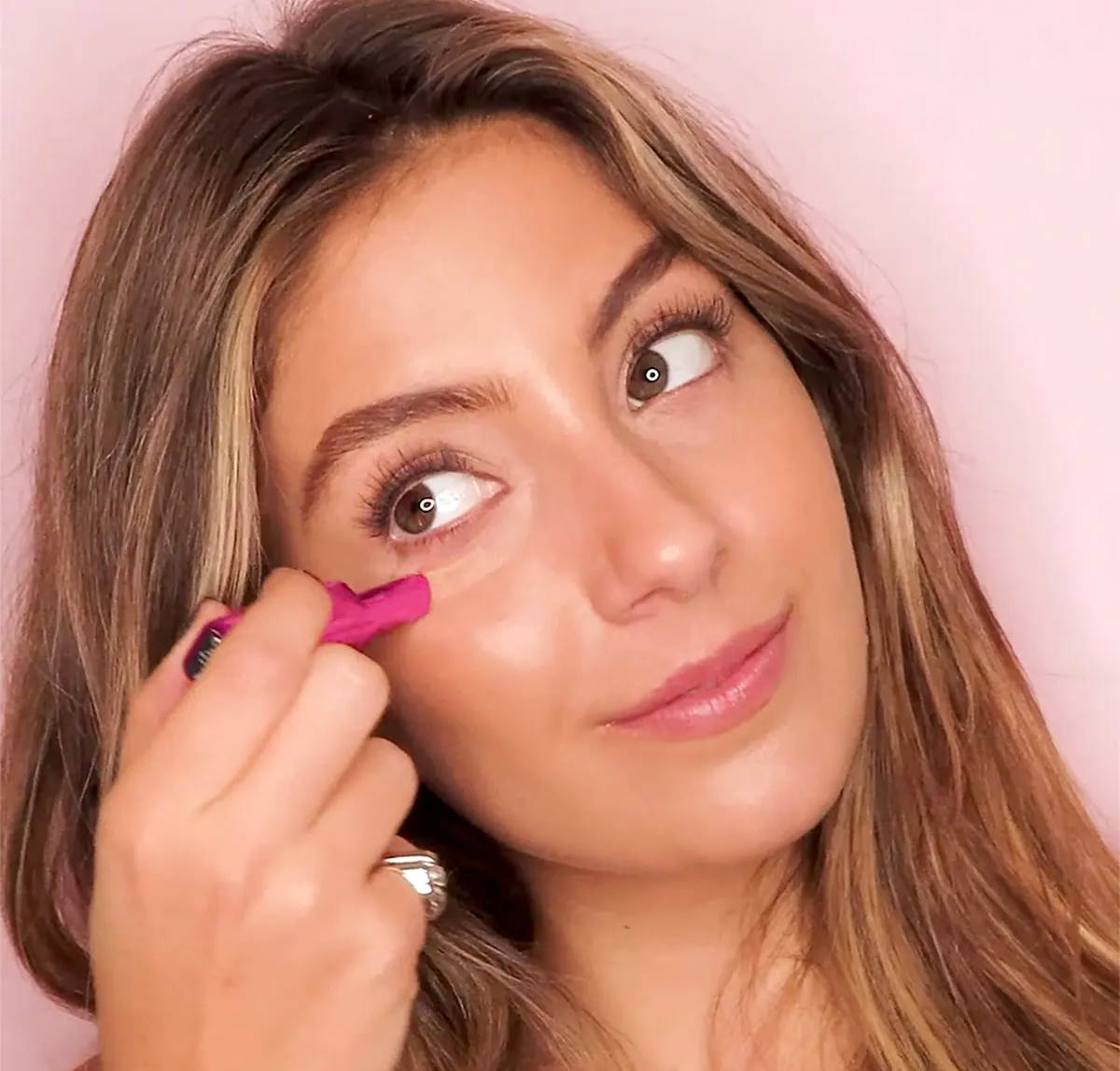 All over blotchy?
For those days that you wake up blotchy or maybe you have other issues such as melasma, ruddiness or dark spots, a concealer and foundation is your answer. Our SMOOTH Crème Concealer & Foundation Duo takes care of all over complexion unevenness without the tell tale signs of makeup. Our SMOOTH Crème Concealer is loaded with hydration anti-crepe ingredients as well as our custom color correcting pigments and our SMOOTH Foundation contains the humectant PHYTOMOIST which plumps to smooth out fine lines while our custom color correcting pigments even out your complexion.
Product to use: SMOOTH Crème Concealer & Foundation Duo
Super dark circles, spots, scars, birthmarks?
If your circles or spots are more than 2 shades darker than your complexion, then our Color Correctors are a must. Boost your coverage with one of our super pigmented color correcting shades applied under your concealer. Using the guide below, choose the shade and depth that combats the shade and depth you wish to cancel out. Our Color Correctors also contains Vitamin E, Ceramide NP and Sodium Hyaluronate which helps treat your skin.
Product to use: Color Corrector